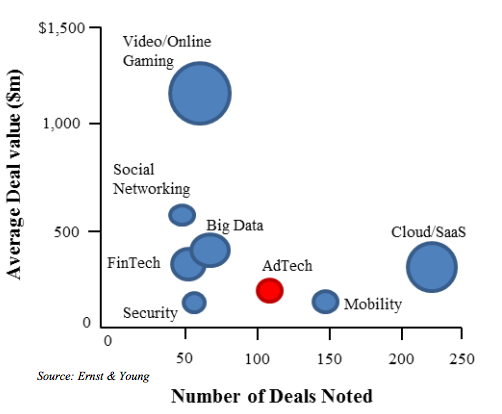 M&A deals in the ad tech sector in 2014 were worth double that of the previous year, according to a report from investment advisory firm AGC Partners, with demand for video and data management platforms (DMP) driving growth in the sector.

The report – entitled AdTech M&A in 2014 and Beyond: Trends and Drivers in an Evolving Landscape – claims the growth in investment in the ad tech sector has been driven by a 36% compound annual growth rate (CAGR) in programmatic ad spend (citing figures from IDC Group), plus the growth in mobile advertising, which is set to hit $73bn by 2018, according to Magna Global.

Programmatic advertising is set to hit $20.8bn a year by 2017, according to the figures cited, with AGC's figures noting that 14 of the major deals in the sector were valued between $100m – $400m, adding US-based firms such as Adobe, Twitter, and Yahoo are leading the surge.
via Ad Tech M&A in 2014 Explained | ExchangeWire.com.